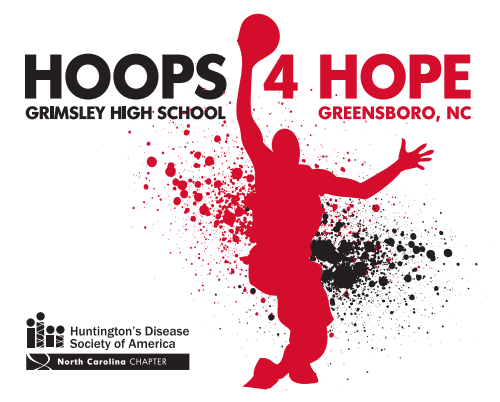 ​

Due to the COVID-19 (coronavirus) this event has been postponed, but you can still fundraise to support the fight against HD. We will announce a new date soon. Please check back for more details. Thank you!, we will let you know.

2:30PM - 5:00PM
$5 per individual; $20 for a team of four
Grimsley High School Gymnasium
801 North Josephine Boyd Street (formerly Westover Terrace)
Greensboro, NC 27408

Event Inquiries:
Peter Martinek-Jenne
336-268-0534
martinp3@gcsnc.com
A free throw shooting competition for ALL AGES! Bring a team of FOUR or join a team as an individual shooter. Compete in Elementary, Middle, High School or Adult divisions. Medals to all winning teams!
Early Bird Online Registration
Purchase tickets online by 2/29/2020 and receive an extra FIVE raffle tickets per participant. Purchase tickets online during March 2020 and receive an extra TWO raffle tickets per participant.

Featuring
Food and Drinks • Great Music • FREE T-Shirts • Amazing Raffle Prizes • Silent Auction items
Raffle Tickets
Each admission comes with ONE raffle ticket. Additional raffle tickets are $1 each.
What is the Huntington's Disease Society of America?
The Huntington's Disease Society of America is the premier not-for-profit organization dedicated to improving the lives of everyone affected by Huntington's disease. From community services and education to advocacy and research, HDSA is the world's leader in providing help for today, hope for tomorrow for people with Huntington's disease and their families. To learn more, please visit www.hdsa.org.
What is Huntington's Disease?
Huntington's disease is a fatal genetic disorder that causes the progressive breakdown of nerve cells in the brain. It deteriorates a person's physical and mental abilities usually during their prime working years and has no cure. Every child of a parent with HD has a 50/50 chance of inheriting the faulty gene that causes the disease. Today, there are approximately 40,000 symptomatic Americans and more than 200,000 at-risk of inheriting the disease. Huntington's disease is described as having ALS, Parkinson's and Alzheimer's – simultaneously. HD is characterized by a triad of symptoms, including progressive motor dysfunction, behavioral disturbance and cognitive decline.
Title Sponsor